Cheese Ingredients Market Size, Share, Growth, Trends, and Forecast – 2022
The cheese ingredients market is estimated to be valued at USD 87.08 Billion in 2017, and is projected to reach USD 102.14 Billion by 2022, at a CAGR of 3.24% from 2017.
The report "Cheese Ingredients Market by Cheese Type (Natural (Cheddar, Parmesan, Mozzarella, Gouda), Processed), Ingredient (Milk (Fresh Milk, Powdered Milk, Milk Cream), Cultures, Enzymes (Rennet, Lipase), Additives), and Region – Global Forecast to 2022″, The global cheese ingredients market is projected to reach USD 102.14 Billion by 2022, in terms of value, at a CAGR of 3.24% from USD 87.08 Billion in 2017. The cheese ingredients market is emerging due to increase in demand for fast food and convenience food, growth in health concerns, and rapid urbanization. Use of cheese in ready-to-eat food and fast food is fueling the demand for cheese ingredients in North America and Europe.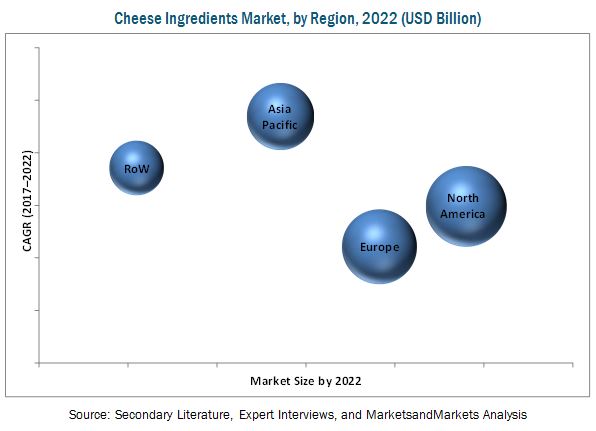 Request for Free Sample Pages: https://www.marketsandmarkets.com/requestsampleNew.asp?id=55495933
Growth of the Cheese industry
Global cheese production is rising significantly, owing to growing demand for dairy products in emerging economies such as India and China, and increasing preference for natural cheese in developed nations. The industry offers a wide range of cheese in terms of texture, flavor, and taste, and these characteristics of cheese are largely dependent on the raw material used for its manufacturing.
Cheese is used as an integral constituent in fast-food and fine dining restaurants. According to the US Dairy Export Council (USDEC), the global cheese production stood at 20.4 million tons in 2010, which rose to 23 million tons by 2015, depicting a CAGR of 2.43% between 2011 and 2015. The increasing demand for cheese from the developing nations is expected to create significant export opportunities for the developed nations such as the US. According to USDEC, the global cheese demand is expected to rise in developing nations, which will drive the cheese trade by an additional 100,000 tons, annually, by 2021. The US and Europe Union (EU) are the world's largest producers and exporters of cheese, with the EU representing approximately 72% of the global exports. The lifting of quota limits on the production of milk in the EU will lead to an increase in the production of cheese by 660,000 metric tons by 2020, as stated by USDEC. The following infographic provides statistical insights into the US cheese production scenario, with a forecast to 2020.
Unfavorable regulatory conditions
The growth of the cheese ingredients market is directly in proportion with the growth of the cheese market. Thus, any restriction on the manufacturing of cheese negatively impacts the global market. Numerous regulations enforced by various food safety organizations such as the US Food and Drug Administration (FDA), Food and Drugs Act of Canada, Ministry of Health of Mexico, Scientific Committee on Food (SCF), and the European Food Safety Authority (EFSA), and Food Safety and Standards Authority of India (FSSAI), are restricting the use of various ingredients in cheese making. Bans imposed on certain types of cheese also hamper market growth. The US FDA banned the sale of various artisan French cheeses such as Roquefort, Morbier, and Tomme de Savoie in the US. This was done owing to the use of raw milk in cheese making and bacteria found in these cheeses. Such a ban has negatively impacted the exports of cheese from France, which has led to declined production of cheese, resulting in subsequent decline in cheese ingredients market.
The Italian Law No 138 of 11 April, 1974 forbids the use of milk powder or any form of milk concentrates in cheese making. It also restricts the sale of any product made with these ingredients in Italy, thus restraining the growth of powder milk as a cheese ingredient in the Italian market. Similarly, the EU legislation Article 19(1) (d) of Regulation (EU) No 1169/2011 lays down the list of ingredients that can only be added for cheese making. Any cheese product having ingredients out of this list cannot be sold in the European countries.
Cheese contamination and product recalls
Though cheeses are considered safe for consumption there have been instances of outbreak of foodborne diseases through cheese, due to the use of contaminated milk for cheese production. The foodborne pathogens originate in the raw milk from the unhygienic farm, storage, and transport environment; and from infected animals. These pathogens colonize in the dairy plants and contaminate the dairy products.
The Listeria outbreak in February 2017 in the US is one of the instances of cheese contamination, owing to use of unpasteurized-contaminated farm milk for cheese production. Owing to this, several major cheese brands such as Sargento (US), Saputo Inc. (Canada), and Meijer (US) voluntarily recalled their cheese products which include Colby, shredded taco, pepper jack, and cheddar cheeses. Factors such as consolidation and globalization of food supply chains makes it difficult to track the contamination and makes such outbreaks more likely and widespread. This is expected to pose a major challenge in the cheese ingredients market.
Make an Inquiry: https://www.marketsandmarkets.com/Enquiry_Before_BuyingNew.asp?id=55495933
Asia Pacific is estimated to be the most lucrative market for cheese ingredients
In 2017, Asia Pacific is estimated to hold a significant share in the global cheese ingredients market, and is also projected to grow at the highest CAGR during the forecast period. Rapid urbanization in countries such as India, China, Japan, and South Korea, upcoming food joints, and increase in the number of baking & dairy industries are the main factors contributing to the dominance and fast growth of the Asia Pacific region in the global cheese ingredients market. Australia & New Zealand dominated the Asia Pacific region, due to the high consumption of cheese ingredients baking and fat food industries. India is estimated to grow with the fastest CAGR in Asia Pacific region due to increasing urban population in the country.
Media Contact
Company Name: MarketsandMarkets
Contact Person: Mr. Shelly Singh
Email: Send Email
Phone: 1-888-600-6441
Address:630 Dundee Road Suite 430
City: Northbrook
State: IL
Country: United States
Website: https://www.marketsandmarkets.com/Market-Reports/cheese-ingredients-market-55495933.html