The Bridge Marbella Receives International Recognition for Outstanding Treatment Success from Marbella Rehab Guide
After just one year of operation The Bridge Marbella celebrates an Outstanding Achievement Award from the Marbella Rehab Guide.
October 15, 2020 – Marbella Rehab Guide is dedicated to recognizing the outstanding work and achievements of treatment providers and industry professionals in Marbella, Spain. https://marbella.rehab celebrates the way treatment centers in Marbella have advanced the ethics, policy, and practice of addiction treatment in Europe.The Annual Marbella Treatment Awards are presented each year and Marbella Rehab Guide is always accepting nominations for the following year.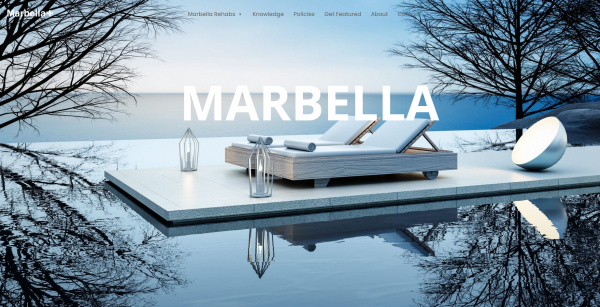 The Bridge Marbella joins an illustrious group of previous winners, who have all been dedicated to delivering long term recovery for clients.
The Bridge is dedicated to primary rehab and secondary after care. The rehabs focus on both primary and secondary treatment are what gained it outstanding status among other clinics in Spain. According to Howard Silver, Founder of The Bridge "a client isn't just attending a 30-day+ rehab center, they are investing in long term recovery and a life free of addiction and destructive behaviors."
Marbella's exceptional weather and nearly year-round sunshine increase the healing process. Vitamin D can improve an individual's mood, helping the rehab experience from the first day. While clients find incredibly relaxing surroundings, inside The Bridge Marbella, they will discover lovely amenities, and an absolute dedication to both privacy and long-term recovery.
The Bridge Marbella is well known in business circles in London and across Europe, and whilst their clientele remains anonymous, it includes very successful and well-known individuals from the UK and Pan-European business community. While the Bridge Marbella remains the ideal choice for all individual clients struggling with destructive behaviors, the facility received special acknowledgement for its work with clients over the age of 35.
The Bridge's female only program was also recognized for its specialist addiction and eating disorder treatment, allowing women the freedom to overcome past trauma and rebalance their lives in a gender specific environment, with specialist treatment professionals and recovery experts. Ali Silver, co-founder of The Bridge Marbella has spoken extensively at Schools throughout the UK on body image and is widely considered one of the best practitioners in the region.
The Bridge Marbella was recognized by Marbella Rehab Guide for an outstanding range of therapies, including:
Cognitive Behavioral Therapy (CBT)
Group therapy
One to one therapy
Family support contacts and liaisons
In-house yoga and Pilates classes
Trauma therapy
Body image workshops
Private GP to consult with
12-step recovery meetings
Nutritional rehabilitation and classes
Experiential therapy (ET)
Clients can also enjoy non-traditional rehab methods. These methods include daily walks and exercise, group excursions around Marbella, guided meditation, and equine therapy.
Media Contact
Company Name: Marbella Rehab
Contact Person: Jon Tonkin, Head of External Communications
Email: Send Email
Phone: +1 424 653 6860
Address:Suite 8122, One World Trade Center
State: NY 1006
Country: United States
Website: https://marbella.rehab/