K-Pop Group KARD Receives Phenomenal Reaction to Their Hanbok Photoshoot
The collaborative photoshoot reveals unconventional hanbok with crop top jeogori and konryongpo windbreaker.
DSP Media, a South Korean entertainment company released photos from the collaborative photoshoot between K-pop group KARD and hanbok designer Leesle Hwang on its official social media channel. Korean fashion designers and Korean wave artists have developed 10 new designs to promote hanbok overseas. In this project, KARD actively participated in the development of hanbok design, revealing their hidden fashion sense. KARD was selected as the model for the collaboration thanks to their large fan base in South America such as in Brazil, Mexico and Chile.
The photoshoot underlying theme was based on the use of sun and moon intertwined with the intensive modern style of KARD. The members in the released photoshoot captured hanbok as a blend of K-fashion with a unique style that matches modern reinterpretation of hanbok – with sunglasses and boots. The jeogori, a basic upper garment of hanbok, is transformed into a crop top that exposes the waist and abdomen. The gonryongpo, also known as dragon robe, is redesigned as a windbreaker made out of leather and has attracted tremendous attention.
During KCON Stage 2020, KARD was caught dressing in hanbok which had created much attention to the photoshoot. They also danced intense choreography on the stage in the hanbok, a testament to the comfort that hanbok offers.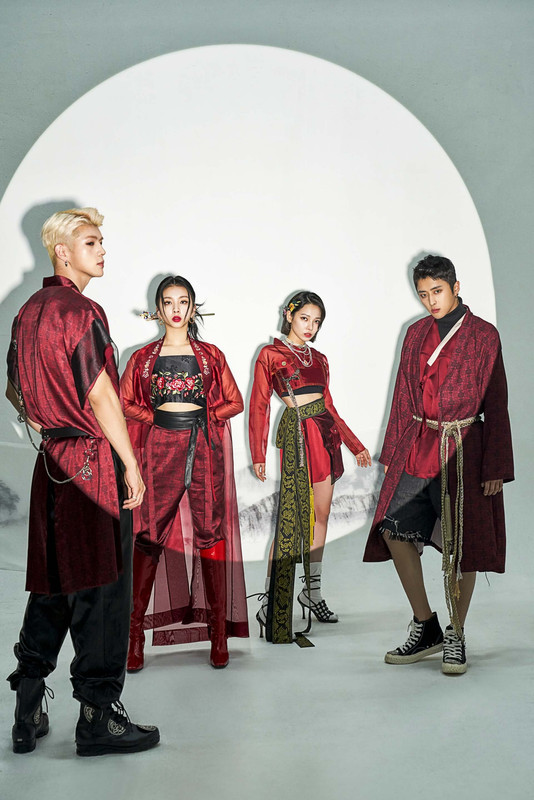 The photoshoot includes 10 different designs from cropped top-style jeogori and dragon robe inspired windbreaker made from leather. After the photoshoot is released, the global KARD fan club known as Hidden KARD responded with astounding replies, proving their popularity overseas once again.
Designer Leesle Hwang, the owner of the hanbok lifestyle brand called Leesle stated that "Hanbok is becoming a fashion genre as many K-pop artists like BTS and Blackpink are wearing it. My goal is to create practical yet unique fashion using the elements of hanbok and I'm realizing its popularity as more orders are coming in from overseas."
DSP Media's staff said, "We feel a great sense of frustration as they (KARD) can't perform overseas due to COVID-19, but are happy to be able to introduce KARD's charm to the fans overseas through this hanbok collaboration.
"KARD will continue to show their charms through different contents, so we look forward to your support," added DSP Media. Meanwhile, this photoshoot collaboration is part of the K-pop collaboration contents development project between Leesle and South Korea's Ministry of Culture, Sports and Tourism. Some hanbok costumes in the photoshoot will be available on Leesle's website for purchase.
About Leesle – https://leesle.co.kr
Leesle was named after designer Leesle Hwang. Twice a year, we have been presenting our collections with changing themes that reflect the latest fashion trends. There is casual hanbok, which exudes an image of the late Chosun Dynasty, and hansual, which adds the structure and characteristics of hanbok to the Western-style dress. Every season, Leesle consolidates its position as a fashion that is created with innovative ideas gradually transforming the hanbok industry.
Media Contact
Company Name: Leesle
Contact Person: Leesle Hwang
Email: Send Email
Phone: +8210-5706-2253
City: Jeonju
Country: South Korea
Website: https://leesle.com/