Beauty Honey Vinegar Jelly Stick, the hottest inner beauty food by Baeksesigpum, the winning company of the 2019 Consumer's Contribution Award
Video Link: https://www.youtube.com/embed/Hb65aNiscBM
Baekse Sigpum is growing into a company that pursues a happy life by providing products and services that make people's lives healthier by incorporating optimal technology with natural foods. It is becoming a company that truly realizes more advanced values.
Beauty Honey Vinegar Jelly Stick functions as a detoxing agent that removes toxins from people's bodies by combining natural fermented brown rice vinegar and natural honey. In this process, fermenting enzymes are added to the tart cherry powder, which is rich in melatonin and vitamin minerals, to maximize efficacy and effectiveness and become both a healthy and hygienic food.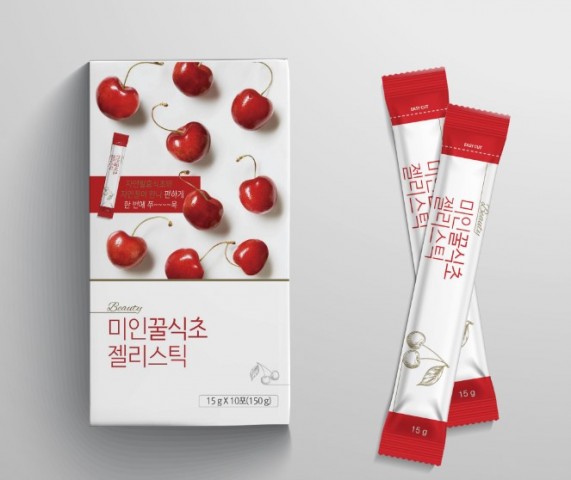 Therefore, Beauty Honey Vinegar Jelly Stick can help improve immunity, fatigue recovery, blood flow through inhibiting platelet aggregation, memory, antioxidant effect, and diet. There are many products in the vinegar market already. Consumers will know more about whether naturally fermented vinegar is any better. However, it has the disadvantage of being inconvenient to mix or carry in order to be consumed.
Moreover, the company developed Beauty Honey Vinegar Jelly Stick that can be consumed in a delicious, healthy, and hygienic manner at once.
In fact, tart cherries contained in Beautiful Honey Vinegar Jelly Stick have 15-20 times more beta-carotene than conventional sweet cherries. This ingredient has been reported to be effective for relieving both inflammation and pain in the U.S. Furthermore, as it is also rich in melatonin, which is well-known as a sleep hormone that helps improve sleep.
Children who need to eat healthy foods in the age of low birth rate are only familiar with instant, chemical foods, Thus, the product was developed with the purpose of providing healthy foods for children. By clearly analyzing the ingredients of the product, the company has developed a product that serves as a safe food while being nutritional as well.
Based on the patented technology, it is a product that has a high degree of technical completion and can increase diet efficiency. Since it has used natural ingredients, it can be enjoyed as a favorite snack for everyone of all ages.
Moreover, it is made into a jelly type that can be easily consumed even in busy daily life to maximize convenience.
An official said, "We developed 'Beauty Honey Vinegar Jelly Stick' so that more people can easily enjoy natural fermented brown rice vinegar that is beneficial to our body. We hope that people will be healthier with the sweet taste of honey vinegar that cannot be felt in general vinegar."
Media Contact
Company Name: Baeksesigpum
Contact Person: Jung jae Eun
Email: Send Email
Phone: +82 10 4266 0882
Country: Korea
Website: https://www.gobizkorea.com/user/goods/frontGoodsDetail.do?goods_no=GS2020072294087&ctgryCode=S0800100040000&upperCode=M0800100000000&goodsNms=Baekse-Vinegar-and-Honey-Jlly-(Beauty-Honey-Vinegar-Gelistic)&skwanSn=&speclKwanId=SPCCD0000623