International Female Speaker Summit Empowers Women of Color to Earn Big from Motivational Speaking
Women hoping to increase their impact, authority and transform lives through their voice and message will benefit from the Female Speaker Summit starting October 26th. The free online event will bring together more than 20 of the world's most influential speakers to teach aspiring women speakers how to develop a game plan to go from free speakers to highly paid change agents using their voice as a powerful vehicle. The virtual event is open to women and those looking to discover how to build a speaking business in any economy using their unique story and transformational message.
Today most life coaches, business consultants, and public speakers are men. While women speakers and women entrepreneurs are voicing their success stories on public platforms, the presence and voice of women on such forums is minimal. The Female Speaker Summit is set to change that with the women- focused virtual event starting October 26th. Echoing the goals of the summit are the words of Jay Crutchfield, host and organizer of the event.
Nearly 70% of All Event Speakers are Men. Most Events Are Missing Two Key Ingredients, The Voice and Expertise of Women. I'm on a Mission to Change That…
The talent and growing impact of women speakers of color is limitless. They are business professionals, entrepreneurs, authors, business coaches, and consultants but all have one thing in common, an effective message to utilize their skills for profit and impact. The Female Speaker Summit will share strategies and tactics for these women on how to become a first time author and write their first book, secure speaking gigs, become high impact and transformational coaches, attract more clients as a consultant, and establish themselves as an authority for success in their areas of expertise. The event will consist of five sections that will help women to succeed faster in the speaking and coaching industry. Once the event is complete, they will discover how to become a transformational speaker, craft a unique message, write their first book, master marketing, secure paid engagements, and land lucrative 4-5 figure deals.
Presenting at the summit will be the most talented speakers handpicked by the organizer of the event. All of them are elite experts who will teach from experience rather than theory. These are women and men who have willingly taken time off from their busy schedules to impart their knowledge and narrate their own failures, and wins hoping these will be valuable life lessons for others. Their success path, insights, and strategies if applied correctly can change anyone's life for the better.
The Female Speaker Summit has been organized by Jay Crutchfield, a successful consultant turned entrepreneur who attributes much of his own success in life to powerful women. The Female Speaker Summit is his way of fulfilling one of his life missions to bring the most dynamic and thought-provoking women from around the world together on a platform that perfectly showcases the ideals of women empowerment.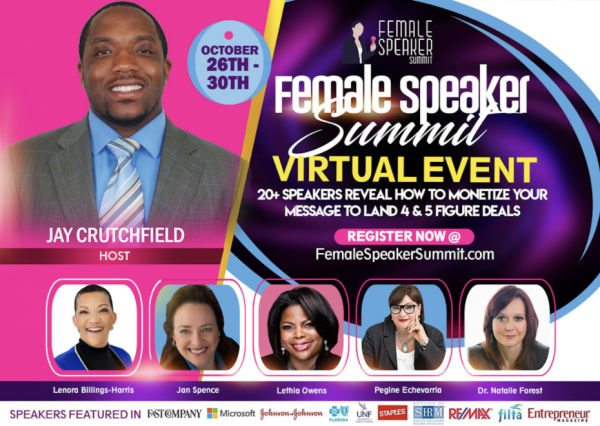 Those wanting to join the Female Speakers Summit can claim their free ticket by registering at https://www.femalespeakersummit.com/
For more information: https://www.femalespeakersummit.com/
Media Contact
Company Name: Female Speaker Summit
Contact Person: Ashley Gabrielle
Email: Send Email
City: Indianapolis
State: Indiana
Country: United States
Website: https://www.femalespeakersummit.com/