Primal Factions – A Minecraft Factions Server with a Classic Experience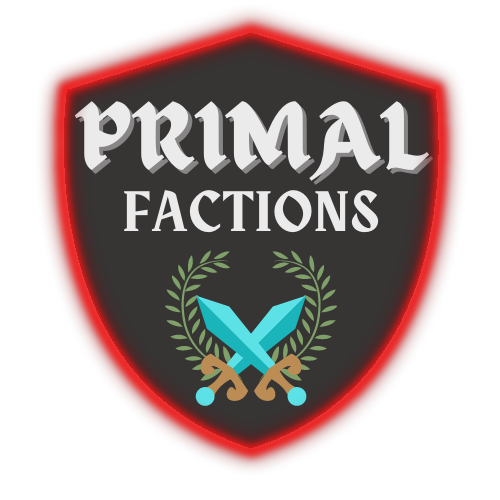 We created Primal Factions out of our love for that classic 1.8 factions experience we missed so much. Servers like these are hard to find and most have game breaking aspects so we sought out to create our own server. Our staff team and server want to stick to the pure simplicity that made factions back then so much fun and we hope to see you on the server!
1.8 COMBAT Factions, KOTH Events w/ Custom Arenas, Custom PvP Arena w/ Events, In Game Rank Progression, Gapple Cooldowns, Custom Crates, Combat Log, Mending In 1.810k World Boarder, End & Nether Warps, Old School Setup & Style
Our server aims to take gaming back to 2012 when Minecraft Factions was in its prime. We incorporate all the original gameplay aspects and put a modern twist on them. All of the pvp and raiding action is still here along with new features such as black market traders and crates. We aim to keep the community looking for that classic factions experience we all know and love together! Come out and see what your missing on our server!
Server Trailer – https://youtu.be/xhY8uHS_Fh0
The IP is play.primalfactionsmc.com
What is a Minecraft Server?
A Minecraft server is a player-owned or business-owned multiplayer game server for the 2011 Mojang video game Minecraft. Players can start their own server either by setting one up on a computer using software provided by Mojang, or by using a hosting provider so they can have their server run 24/7.
Minecraft servers allow players to play online or via a local area network with other people.
Internally, the game runs a server for single-player games, this was done in order to make the single player game experience consistent with the multi player experience and make it so that changes made to the game such as bug fixes apply to both single player games and multi player games.
Media Contact
Company Name: DiscordTree
Contact Person: Media Relations
Email: Send Email
Country: United States
Website: https://discordtree.com/