A.C. Lewis and Leon Hamilton Set To Release Blood And Oil
Talented writers, A.C. Lewis and Leon Hamilton team up to release Blood And Oil, a fiction based on the mutation of the Covid-19 virus in the United States
Millions of lovers of fiction are set to be thrilled with the official pre-release of Blood And Oil, a compelling story of how the swift and powerful Covid-19 pandemic mutated the infected in the United States to transform them into abnormal monstrosities. The piece was written by A.C. Lewis and Leon Hamilton, following the former's decision to write a horror book inspired by the current Covid-19 pandemic.
The authors were futuristic with the book, portraying the would-be political implications of the pandemic if it mutated to turn humans into beasts. Blood And Oil reveal how the corrupted world tries to create a functional government and the emergence of political cataclysms, with Texas becoming a quasi-state apocalyptic regime.
"That night we rationed our provisions and rested in shifts. I'd just started my watchkeeping guard on Nancy as she slept when something moving in the twilight caught my attention. Narrowing my eyes, I tried to focus through the darkness. Whatever it was, it was meteoric. The freshly infected were still mobile till rigor took hold. These ones looked recent. We hadn't seen any healthy-looking ones in months.
Raising my rifle, I tracked its movements through my scope, till I caught sight of what I'd been watching. Two newly infected runners were racing towards our camp.
The combination of sleepless nights and nerve-rattling days had given me a short temper. "Get your gear, we have to go, now!"
Not understanding why I was in such a hurry, Nancy's priority was the food. "We can't leave this." She responded in an almost angry tone.
With no time to explain I roared, "Move your ass, we have to go!" Grabbing her by the arm I sprinted into the woods.
The terrain was rugged, one small mistake could cost us our lives. As we ran, the sound of them snarling and panting behind us drove us forward. These ones were strange, fixed onto us not making one mistake on this root congested field.
Ahead of us was an extra small group of ill ones, they were alerted by the commotion and instantly we were running from a full-on horde.
Turning right we headed for the base, one way or the other we were going to find out who was there.
Nancy yelled to me but I couldn't hear her. As the base came into view so did a massive pit. My first thought was the rooftop I failed to jump yesterday, but there was no time to doubt myself now.
With the horde closing in, I tried to ignore the fear. Then, I yelled to Nancy, "We have to jump!".
Giving it my all, I raced towards the edge and leaped. When I got to the ground on the other side, there was a moment of joy, followed by heartbreak when I realized Nancy wasn't with me.
I looked back to see a cascade of bodies pouring into the pit and Nancy was nowhere in sight…"
For more information about the official first pre-release of Blood And Oil and a preview of a scene of the book, visit Facebook.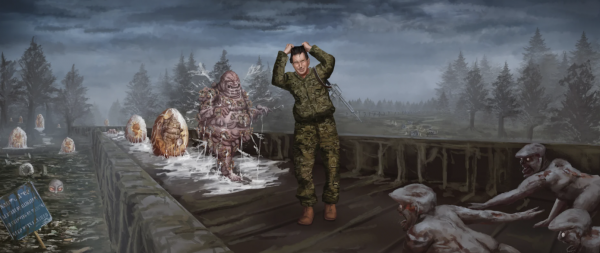 About A.C. Lewis
A.C. Lewis (Luis Amezcua) is a graduate of Bachelor of International Studies and winner of a prestigious poem award from Yonsei University in South Korea. The talented writer, who also has a degree in International Relations from the respected Hanyang University portrays the different political levels of analysis inside of his magnetizing creations.
More info:
https://www.facebook.com/BloodandOil
https://www.facebook.com/AC-Lewis-109658577999027
Media Contact
Contact Person: A.C. Lewis
Email: Send Email
Country: United States
Website: https://www.facebook.com/BloodandOil