Dynamic Husband and Wife Duo Triumph in the Oklahoma Luxury Home Building Industry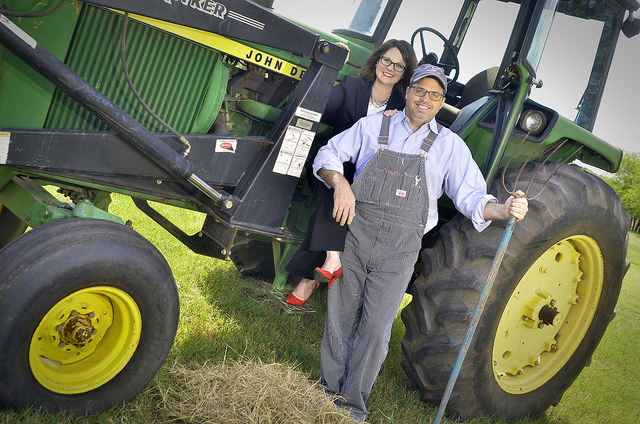 Jennifer and Craig Hodgens are owners of the company OklaHome Homebuilders, which specializes in the building of personalized luxury homes in the country on land.
Jennifer and Craig Hodgens are owners of the company OklaHome Homebuilders, which specializes in the building of personalized luxury homes in the country on land.
Jennifer and Craig Hodgens are a husband-and-wife business team with uniquely opposite, but always fun, personalities. Craig grew up on a farm and had always dreamt of spending his days with cows and riding on tractors as a farmer. He was known for his often awkward, edgy, and embarrassing persona, with no one knowing what would come out of his mouth next. Craig is incredibly intelligent and can fix anything, often tinkering with tractors throughout his life.
Jennifer, on the other hand, is a lover of big cities and a former San Francisco wedding planner. She is sweet, well spoken, and very friendly, which is the polar opposite of her husband, Craig. They have dreamed of owning a family business throughout their entire lives, and after the devastating 2013 Oklahoma tornado, they began building homes together.
The couple states that, "When we got married, we were most excited to invite each of our Oklahoma farm-raised grandfathers. We told them not to go rent a tuxedo or buy a suit. As they were in their 90s that was ridiculous. We wanted them to be comfortable and wear their overalls! Both grinned ear to ear in family wedding photos proudly wearing their overalls with sports coats!"
Now Jennifer and Craig build 100 percent custom luxury homes on farmland in the $500k – $2.5m range. Their clients are building their dream forever homes – often on farmland that has been in the family for generations. Several are inheriting the land from their grandparents. Craig loves going to the grandparents' homes, hearing their story, and getting to know them personally before he agrees to build a home for the grandkids on the family land. It reminds him of growing up with his own grandparents on a farm in Oklahoma.
The COVID-19 pandemic has caused people in the cities to want to move out to the country, where they can experience fresh air, living off the land, and growing their own food or raising animals. Some people are preppers and will have huge pantries and storm shelter/safe rooms custom built. People have discovered that they no longer have to go into an office every day to work, which has given them the freedom to move further away from the city and homeschool their children. Oftentimes these people are professionals – doctors, engineers, and military personnel.
The pandemic has led to a major shift towards multi-generational living. Many of their clients are building one large home for the parents and the kids with a smaller cottage for grandparents next door. This allows the older generations to downsize their homes but still be next door to help with babysitting and day-to-day activities. Jennifer says, "COVID has allowed people to work from anywhere, and where they'd like to be is living next to Grandma and Grandpa out on the family land."
When asked about what it is like co owning a company with your spouse, Jennifer states that, "Having a family business is a dream come true, but not without consequences. Spouses who work together get to see each other every day and share the same stories, clients, and dreams, but also everyone sees all your skeletons. Employees can tell if you've had a fight the night before, whether you want them to or not. It takes speaking a different co-preneurship language, staying in your own lane, knowing when to step back in order to move forward and communicating much more than regular spouses have to." Jennifer and Craig value communication and professionalism, but their love and cooperation have built their dream business delivering dream homes to their customers.
Jennifer states that, "When I first brought Craig home to meet my family my mom's reaction was, 'Well, he's weird and you're weird, but you're perfectly weird together!' Proof that there's a lid for every pot – even if the pot is cast iron and the lid is shiny stainless steel."
About OklaHome Homebuilders
OklaHome Homebuilders is a custom home building company specializing in luxury homes out in the country on land. Owned by Craig, an Oklahoma John-Deere-loving farm kid and Jennifer Hodgens, a former San Francisco wedding planner; the homes they build blend a special simple yet comfortable style that becomes more of a lifestyle than a house.
Craig and Jennifer have been in the remodeling/homebuilding industry in OKC for over 20 years and love celebrating the new chapter in the lives of the families they build for. That's why they name each home they build, host slab signing parties, housewarming parties and love to feature the great story behind every home.
Further, the work ethic Craig learned from working on the farm and Jennifer's eye for details guarantee their clients are getting a well-built, high quality home – that's why "picky rich people" seek them out for unique custom designs and high-end features. For their entire lives, they have dreamed of having a family business that helps others enjoy the simple things in life: moments together, laughter, and character building.
For more information, please visit website: www.OklaHome.com and follow OklaHome Homebuilders on social media: @OklaHomeHomebuilders on Facebook, Instagram, YouTube, and Pinterest
YouTube channel: https://www.youtube.com/watch?v=7_OVuxZVq8w
Here is a video tour of some of OklaHome Hombuilders' homes: https://www.youtube.com/watch?v=X4_Lxj1F6Eo
Blog post "Kinda Like Green Acres": https://kindalikegreenacres.com/2020/06/7-pretty-blogs-to-follow-3/
Media Contact
Company Name: OklaHome
Contact Person: Jennifer Hodgens
Email: Send Email
Country: United States
Website: www.OklaHome.com