The United States Marks National Grandparents Day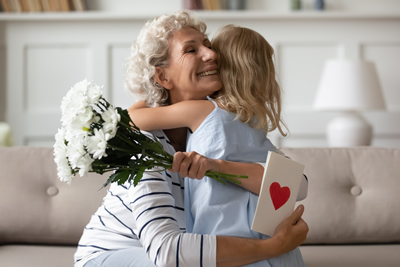 Royal Society study finds that grandmothers showed higher levels of cognitive empathy when interacting with their grandchildren than children.
National Grandparents Day Was Celebrated on September 11th As Many Have a New Found Appreciation for the Special Bond with Grandparents.
Sydney, Australia – 26th September, 2022 – People all over America took the opportunity on Sunday to honor grandparents on National Grandparents Day. The American National Grandparents Day was the idea of Marian McQuade. She pressed the US Senate to proclaim a special day for grandparents in 1978, with the bill becoming law that same year. While in the US and Canada, Grandparents Day is celebrated in September on the first Sunday after Labor Day, in the UK, it's the first Sunday in October; in Germany, Grandmothers Day is on the second Sunday in October; and in Mexico Dia del Abuelo, or Grandparents Day, is on 28th August.
To mark National Grandparents Day in America, an official proclamation was released. It began by praising grandparents for "their wisdom, strength, and love." It then acknowledged that "Grandparents are storytellers and gatekeepers of family tradition. They are wellsprings of knowledge and experience. They are the centerpieces of family gatherings and the glue that keeps so many families together."
Appreciation was shown for grandparents' role in caregiving, saying, "Grandparents also help raise children. They shuttle grandkids to-and-from school, babysit when parents are away from home, and offer advice and comfort when it is needed most. Sometimes they fill in as primary caregivers, putting aside their own needs and working full-time to provide the blessing of a loving family."
On a sadder note, tribute was paid to those who had lost grandparents, "While this is a day of celebration, it is also an opportunity to remember the grandparents who are no longer with us. The COVID-19 pandemic cut short the lives of too many loved ones — especially our seniors. (We) send strength to families who are no longer whole and to families whose grandparents are fighting for their health today. We also send encouragement to families who postponed gatherings and loving embraces during the pandemic. We know how difficult it can be to remain physically apart. Finally, we acknowledge that, for many Americans, grandparents live on only through the stories of relatives who were fortunate enough to have known them, but that these bonds can be powerful too."
Research has shown how strong those bonds can be, especially between grandmothers and grandchildren. A study by Rilling, Gonzalez, and Lee titled 'The neural correlates of grandmaternal caregiving' was published in the journal Proceedings of the Royal Society B in November 2021. By monitoring their brain activity with functional magnetic resonance imaging, the researchers, a mix of anthropologists and neuroscientists, found that grandmothers showed higher levels of cognitive empathy when interacting with their grandchildren than children.
"Emotional empathy is being able to sort of feel the emotions that another person is feeling, whereas cognitive empathy (also called theory of mind) is more understanding at a cognitive level what someone is thinking or feeling and why," Rilling said. These findings "suggest that when mothers are engaging with their grandchildren versus their children, they may be adopting these sorts of different mental perspectives."
Numerous other studies have shown that a close bond with grandmothers can improve a grandchild's academic achievements and emotional and physical well-being. For the grandmothers, the benefits include a reduced risk of Alzheimer's disease and a longer lifespan. A systematic review of recent research examining the emotional closeness between grandparents and their grandchildren by Duflos, Giraudeau, and Ferrand published in the Journal of Family Studies, discovered that "grandchildren and their grandparents have shown the importance of the bond between them for their well-being, the good development of the grandchildren and the grandparents' successful aging. This mutually satisfying intergenerational bond is based on emotional closeness, reciprocal influence, and willingness to maintain the relationship throughout life."
This typically close bond between grandmothers and grandchildren can easily be seen in the plethora of gifts available for grandmothers. "I have noticed that by far the most popular category in our gift shop is the section for grandmothers," says Magdalena Kusyk, owner and founder of 4Retirees. "Treating your grandmother to something special is something most people love to do!"
Whatever day you choose to officially celebrate your grandparents, it's good to show our appreciation for them every day. President Joe Biden, a grandfather himself, said, "They (grandparents) have had big hopes for us, and through our ups and downs, they have continued to love us just the same — because that is what grandparents do. On National Grandparents Day, let us honor the grandparents who teach us lessons, imbue us with family pride, and shower us with affection."
Media Contact
Company Name: 4Retirees
Contact Person: Magdalena Kusyk
Email: Send Email
Phone: +61 424 343 411
Address:Level 2 11 York St
City: Sidney
State: New South Wales
Country: Australia
Website: https://4retirees.com