DNAKE Smart Central Control Screen Won Bronze Award at the International Design Excellence Awards 2022

Xiamen, China – Sep 26, 2022 – DNAKE is thrilled to announce the win of the bronze award for Smart Central Control Screen – Slim and the win of the finalist for Smart Central Control Screen – Neo at the International Design Excellence Awards 2022 (IDEA 2022). Winners were announced at The International Design Excellence Awards (IDEA)® 2022 Ceremony & Gala, held at Benaroya Hall in Seattle, WA on September 12, 2022.
About International Design Excellence Awards (IDEA) 2022
IDEA is one of the world's most prestigious design awards programs held by the Industrial Designers Society of America (IDSA), founded in 1980, to acknowledge achievements in industrial design. 2022 was the second year in a row that IDEA received the most entries in the competition's history, going back to 1980. Rising above a sea of other design awards programs, the prestigious IDEA remains the gold standard. Of this year's more than 2,200 entries from 30 countries, 167 were selected to receive top awards in 20 categories, including Home, Consumer Technology, Digital Interaction and Design Strategy. Key criteria for evaluation also include Design Innovation, Benefit to User, Benefit to Client/Brand, Benefit to Society, and Appropriate Aesthetics.DNAKE's product design reflects the company's changing values and innovative technology. The smart, interactive, and user-friendly designs were recognized to be progressive and diverse.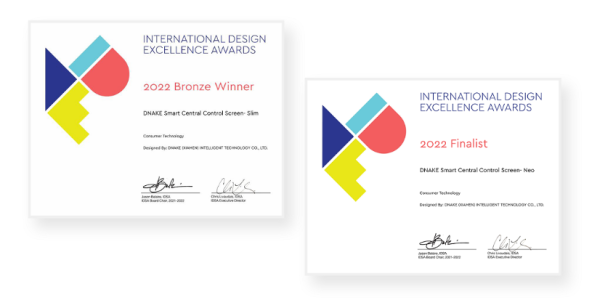 Smart Central Control Screen – Slim Won Bronze Award for Its Multifunctional Designs and User Experiences That Fit Different Lifestyles
Slim is an AI voice-central control screen that integrates smart security, smart community, and smart home technology. With a built-in multi-core processor, it can connect each isolated device through Ethernet, Wi-Fi, Bluetooth, ZIGBEE, or CAN technology, to meet a variety of interaction hardware needs. 12-inch ultra-clear screen with a large field of view and toroidal UI in golden ratio offer ultimate visual effect, not to mention exquisite craftsmanship of full lamination and anti-fingerprint nanometer coating lead to smooth touch and interactive experience.
Slim uses an automatic control system to create a safe, comfortable, healthy, convenient smart-living environment. Combine lighting, music, temperature, video intercom, and other settings to quickly control multiple smart home devices simultaneously with a tap on this smart home panel. Enjoy control as you've never experienced before.
Smart Central Control Screen – Neo Selected as A Finalist for Its Advance Designs As a winner of "2022 Red Dot Design Award" in the product design category, the Neo comprises a 7-inch panorama touchscreen and 4 customized buttons, perfectly fitting any home interior. It combines home security, home control,
video intercom
, and more under one panel.
Since DNAKE launched smart home panels in different sizes successively in 2021 and 2022, the panels have received many awards. DNAKE always explores new possibilities and breakthroughs in the core technologies of smart intercom and home automation, aiming to offer premium smart intercom products and future-proof solutions and bring pleasant surprises to the users.
Original Source: https://www.dnake-global.com/news/dnake-smart-central-control-screen-won-bronze-award-at-the-international-design-excellence-awards-2022/
Media Contact
Company Name: DNAKE
Email: Send Email
Phone: 86-592-5705812
Country: China
Website: https://www.dnake-global.com/