Daradia hosted the 7th International Conference on Recent Advances in Pain in Dhaka
This conference took place at the Hotel Pan Pacific Sonargaon in Dhak on Sept 10 and 11, 2022.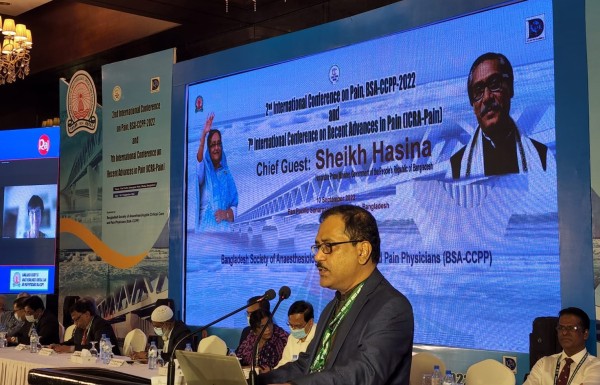 Dr. Gautam Das and his team of specialists in pain medicine from Daradia: The Pain Clinic, Kolkata organized an international conference named International Conference on Recent Advances in Pain (ICRA-PAIN) with hands-on workshops where doctors from all over the world participated in order to discuss and learn the recent developments in pain medicine, a new branch of modern allopathic medicine.
International conference on recent advances in pain (ICRA-PAIN) is the brainchild of Dr. Gautam Das and it started in 2015 in Kolkata and was inaugurated by honorable Governor Shri Kesharinath Tripathi. It is organized every year by Daradia in different cities in India. This year, the 7th ICRA-PAIN was organized outside India in Dhaka and was jointly organized with the 2nd International Conference on Pain by the Bangladesh Society for Anaesthesiologists, Critical Care, and Pain Physicians (BSACCPP) in Dhaka.
On September 10 and 11, this conference took place at the Hotel Pan Pacific Sonargaon in Dhaka, along with two pre-conference workshops and one post-conference workshop. On September 9th, Birdem Hospital hosted a pre-conference live surgical workshop where a new technique known as cooled radiofrequency procedures was demonstrated. A few cooled radiofrequency procedures for chronic knee pain, back pain, and neck pain were presented from the operating room. Physicians observed the interventional procedures live and interacted with doctors from the operating room. On 9th Sept, another pre-conference workshop was organized at Bangabandhu Sheikh Mujib Medical University Hospital. Here, a hands-on workshop on musculoskeletal ultrasonography was organized. On September 12th, the post-conference cadaveric workshop was held at Dhaka Medical College. In Bangladesh, this was the first cadaveric workshop for interventional pain procedures where doctors practiced interventional procedures on the cadavers to develop their skills.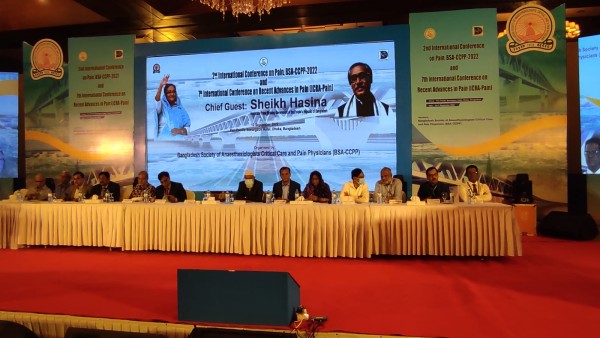 On September 10, 2017, the Chief Guest was Honourable Prime Minister of Bangladesh, Sheikh Hasina, who inaugurated the conference virtually. She praised the anaesthesiologists for their significant contributions during the Covid era and anticipated further contributions from them in the area of patients' pain relief. She appreciated that the physicians of Bangladesh will be benefitted by this conference and will take care of pain in heavily populated nation. The government's contribution to Bangladesh's development in different branches of medicine were appreciated by all other dignitaries present. Prof. Kawsar Sardar, the organising secretary, welcomed the attendees and informed them that Dr. Das is the creator of ICRAPAIN. Dr Das mentioned in his inaugural speech that Bangladesh is advancing in various fields and he expected that young physicians of Bangladesh will excel in this field of pain medicine too.
During the conference, there were attendees and faculties from various countries such India, Bangladesh, Nepal, Pakistan, Sudan, USA, Peru, Mexico, Spain, Italy, Romania, UK, Malaysia, Saudi Arabia, Egypt, Sri Lanka, Columbia, Norway, Ireland, and England. The majority of them joined in person, although few faculty members also joined online. India had the second-highest offline participation after Bangladesh. This offline conference was attended by 36 Indian doctors. About 400 doctors attended this meeting in total in Dhaka.
The most cutting-edge minimally invasive treatments for different painful illnesses, such as persistent knee pain, back and neck pain, headache, shoulder pain, cancer pain, and arthritis pain, were discussed by different faculties at this conference.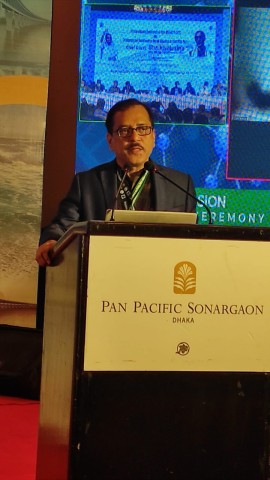 Media Contact
Company Name: Daradia: The Pain Clinic
Contact Person: Sanjib Paul
Email: Send Email
City: Kolkata
State: West Bengal
Country: India
Website: www.daradia.com