Peregrine is a new beautiful souls-like game for those hardcore gamers who want a challenge
A new underrated release title on steam called 'Peregrine' is now out. The indie game is really heavily inspired by other type of souls-like games with its visual stunning gameplay and hack-and-slash combat but it does stand out as a challenging and amazing game on its own.
Peregrine is a beautiful crafted third person, action RPG, hack and slash, fantasy game made by Soli Games where you travel between lands looking to destroy Abbadon, the Cursed King. Purging enemies gives you souls that enhance your abilities.
Players can collect new abilities that increase things like blade damage, flaming enemies when you attack and much more. They can also collect powers to protect themselves from damage while in combat. Dodge attacks or use the your shield (called the blessed shield) to block and retaliate against your enemies.
The enemies design are somewhat creepy and well done. The game on it's own is very challenging and anyone that have an interest in these type of games should wishlist it now on steam.
Each power that is collected gives different abilities such as flames from weapons, fire and much more. The combat system is a hack-and-slash style where the player needs to time the attacks towards the enemies while blocking and dodging them. The music is this game is just beautiful both while resting up and seeing the great enviroment the game has to offer and also while you are in combat against countless of enemies that spawns upon you.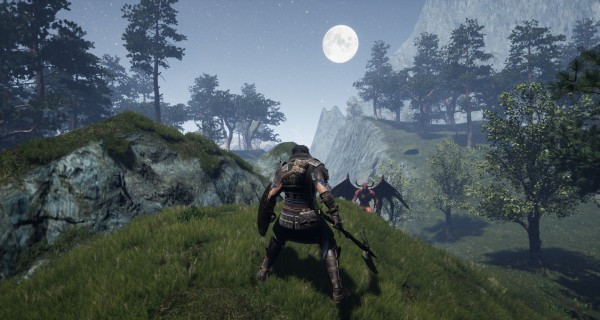 The Game Features:
Power up your abilities – many power-ups available for your player.
Enjoy a deep and mysterious story while you progress in battle.
Fight for your life in deadly games and challenges against strange enemies
Solve puzzles and find secrets as you travel the untamed lands.
Skillful enemies which you have to be careful from and time your attacks and dodges.
Non-Linear combats that keep you engaged for hours.
Discover trivia in each level, combat enemies, power up and travel between lands.
Awesome playlist to keep your adrenaline pumping.
The game is visually stunning, combat is amazing and the sounds are top notch.
Anyone into these type of hack-and-slash, fantasy RPG and souls-like game then one will surely enjoy Peregrine. You can get Peregrine by clicking here on steam now and support the devloper.
Lastly it is worth noting that this game was created by what appears to be just a single developer. Building a game this good on your own is incredibly impressive and we look forward to seeing what Soli Games produces next!
Media Contact
Company Name: Indielush
Contact Person: Gerardo
Email: Send Email
Country: United Kingdom
Website: http://Indielush.com