Marcus Nel-Jamal Hamm – rafting the pinnacle of movies at the premium level, Now Releases "Triggered"
Urban Renaissance's CEO Marcus Hamm has won awards across the entertainment industry, and his new project, Triggered, has turned the tables.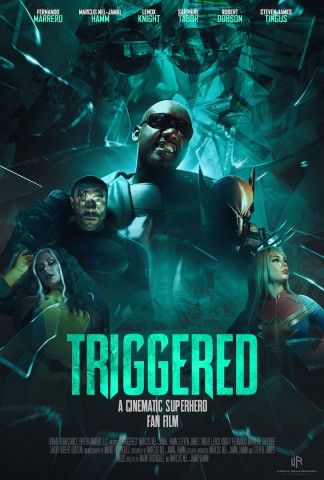 The trailer for Marcus Nel-Jamal Hamm's upcoming cinematic superhero fan film, Triggered, starring well-known figures Blade, Wolverine, Rogue, and Captain Marvel, is available to view at his Urban Renaissance Entertainment website (see link below). Hamm is also an actor and the founder of Urban Renaissance Entertainment, LLC. The Black League of Superheroes, his debut fan film, has earned 26 awards at film festivals.
On October 23, 2022, a second fan film will be released with scheduled private screenings, as well as screenings at a few film festivals and comic book conventions, and an Indiegogo fundraising campaign will be launched to collect funds for part 2. The Black League of Superheroes, Marcus' debut fan film, is an official selection and will be displayed at the tenth Annual Urban Action Showcase in Times Square, New York, on November 4 and 5.
At the prestigious Ambassador Auditorium in Pasadena, California, on October 29, 2022, Marcus was nominated for Best Actor in an Independent Film at the HAPA Awards of 2022. He co-produced Heaven's Revenge, I Love You to Death with Kristen Lowman, and his co-star and former bachelorette LaNease Adams is also nominated for the best actress for her performance in the movie.
Till the Po-Po Come by Britt Prentice, which he directed for his first music video, just won the best music video prize at the Los Angeles Reel Film Festival and will be screened at the Complex Theater in Hollywood, California on October 23rd. Along with all these achievements, Marcus established himself as the CEO of Urban Renaissance Entertainment, LLC in the production sector.
Marcus explains the concept underlying the Urban Renaissance as follows, "The Harlem Renaissance of the 1920s inspires the Urban Renaissance. We're in the new 20s and here to revive creative freedom. We also celebrate diversity and disability inclusion headed by our VP Steven James Tingus."
As for Triggered, it was revealed that numerous MCU movies, including Blade, had their release dates pushed back. Triggered will fill in the gaps, and Marcus Nel-Jamal Hamm will use it as a profile booster as he penned, co-directed, produced, and co-starred throughout the fan-fiction short film.
Visit UrbanRenassianceEntertainment.com to get more details and to ensure not to miss any future updates. Follow Marcus on his company site's IG: @urbanrenentertainment and Twitter: @UrbanRenaissan4.
Marcus thinks his masterpiece, Triggered, is his most significant creative achievement. He thinks Superhero fans will appreciate the chance to see characters who won't be in a movie for at least two more years.
Before releasing the film to the public, the company would like to show it at comic book conventions and film festivals. Those interested in hosting screenings of Triggered should contact [email protected]
Marcus just finished filming his lead role as Adam Payne in The S.I.N.S., a period action western Directed by Lovie Ray Johnson. Have a look at this video at https://youtu.be/wLJFL35jxTU
About Urban Renaissance
In 2020, actor and former professional wrestler Marcus Nel-Jamal Hamm established Urban Renaissance Entertainment, LLC. He set out to establish a production company that would enable him to realize his various creative aspirations. Urban Renaissance Entertainment, LLC's CEO, Marcus Nel-Jamal Hamm, is a filmmaker and actor with a history of notable events. All of the films produced under this label have won awards.
Media Contact
Company Name: Urban Renaissance Entertainment, LLC
Contact Person: Marcus Nel-Jamal Hamm
Email: Send Email
City: Los Angeles
State: California
Country: United States
Website: www.urbanrenaissanceentertainment.com